Protect the safety and health of your employees and customers.
In light of recent global health concerns, keeping your workplace as clean and sanitary as possible has become a top priority. This involves scheduling regular cleanings to sanitize desks, countertops, floors, bathrooms, communal areas, doorknobs, and other spaces. At Monument Facility Services, we understand your concerns when it comes to keeping your workspace properly cleaned, which is why we proudly offer professional COVID cleaning services.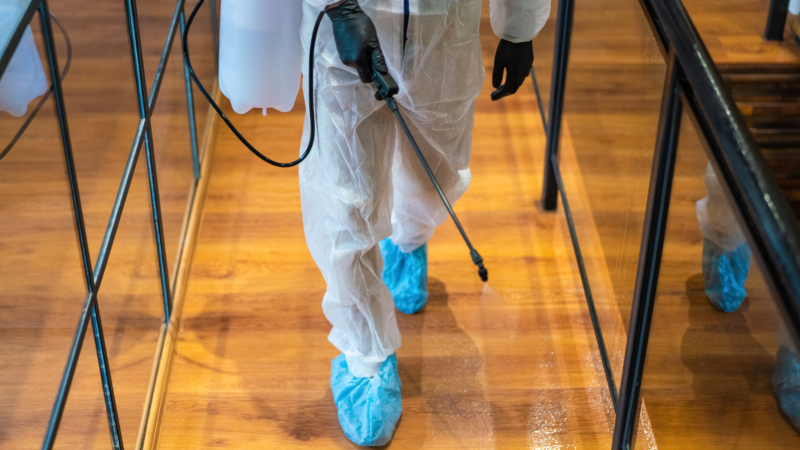 We combine traditional cleaning methods with state-of-the-art electrostatic disinfectant equipment. Electrostatic disinfecting offers a fast, cost-effective supplement to traditional cleaning processes and allows us to thoroughly apply disinfectants and sanitizers to surfaces, regardless of their angle or shape.
Although no specialized cleaning approach can completely eradicate pathogens and viruses, we follow best practices laid out by major public health agencies to provide COVID cleaning services that promote a safer, healthier workplace. Our team always wears proper protective equipment when cleaning workspaces and implements effective practices to help stop the spread of lingering viruses and pathogens. You can also count on us to adhere to the most up-to-date recommendations from public health agencies for sanitizing and cleaning.
We use a different quality of sanitizing product when providing COVID cleaning, as off-the-shelf products are not as effective at addressing viruses and do not have the same level of efficacy as higher-strength disinfectants. We are committed to helping you maintain a safer workplace, and we are happy to tell you more about what COVID cleaning entails. Contact us at Monument Facility Services today for more information.
---
At Monument Facility Services, we offer COVID cleaning services in Virginia, including Chesapeake Bay, Hampton Roads, Richmond, and Tidewater, as well as Maryland, Washington, D.C., and Orlando, Florida.