Customized office landscaping is just what you need to impress your clients even before they walk in the door.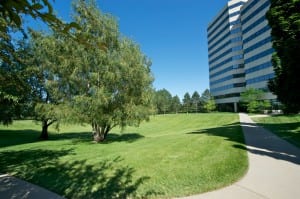 Before your client meets your friendly receptionist, before they walk through your impressive office, and before you dazzle them with a presentation in your conference room or office, there is one thing that they see that actually gives them their first impression of your company. How your office building looks between the parking spaces and the front door can tell them more than you might expect. If your office landscaping is less than impressive, they may very well think you neglect other more important things, as well. At Monument Facility Services, we can turn your office landscaping into a reflection of your solid reputation and allow your clients to enter with smiles on their faces.
You already know that the mood of your client can have a huge impact on how well business is conducted with them. While impeccable office landscaping may not be able to win over every grumpy person, it can go a long way to at least improving their spirits, so your staff can have a head start at turning their frown to a smile.
As a full-service office management company, we can do many things to improve how your business looks, from lawn care and office landscaping to maintenance and cleaning. Many of these things are part of what gives your clients an impression about your effectiveness. Just like you, we care about our reputation, so you can count on top-notch service from us each and every time. Our attention to detail and competitive pricing, along with the extensive background checks we conduct on our employees, are all part of providing you with the best service possible. Call us today with any questions you may have about office landscaping or any of our services. We'll be happy to put together a custom plan for your new image!
---
At Monument Facility Services, we offer office landscaping services in Virginia, including Chesapeake Bay, Hampton Roads, Richmond, and Tidewater, as well as Maryland, Washington, D.C., and Orlando, Florida.