We are a better solution for office lawn care than dealing with equipment and labor issues.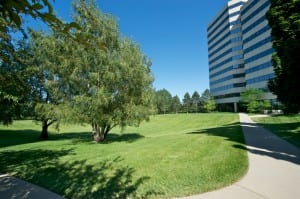 Whether you are responsible for the office lawn care for your own business or as the property owner of a leased building, you know that it can be a challenging task, especially during certain times of the year. It can be a frustrating and costly experience to need the equipment and workers to do a good job. In addition, you need a place to store the equipment and enough other tasks to keep the workers busy when there is nothing else to do outside. A better solution is to call us at Monument Facility Services and ask about our office lawn care services.
Because we are a full-service maintenance firm, we have a full team that we employ to handle various tasks around the community, so they are kept busy at all times. We invest in extensive background checks and proper training to ensure they are qualified to provide your office lawn care or any other maintenance service you need. We further protect you by being fully insured and bonded, so you can have peace of mind that your property will be well cared for.
We take care of every seasonal need on your property, so your office lawn care goes beyond just keeping the grass cut and walkways trimmed. We can also take care of the landscaping, including pruning, trimming, and fertilizing. We are able to customize your office lawn care, so we provide just the services you need or whatever services fit within a set budget that you have. If you have questions about office lawn care or any of our other maintenance services, give us a call. We'll be glad to meet with you and formulate a plan for keeping your property looking great!
---
At Monument Facility Services, we offer office lawn care services in Virginia, including Chesapeake Bay, Hampton Roads, Richmond, and Tidewater, as well as Maryland, Washington, D.C., and Orlando, Florida.