When only top-quality office lawn care will do, call on us for exceptional service.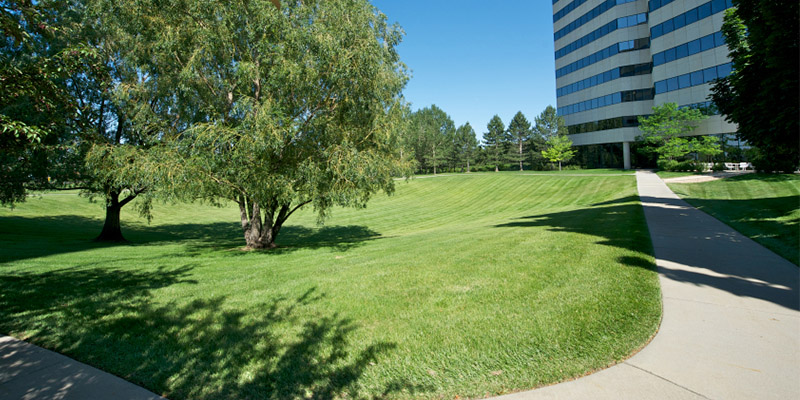 Have you considered sending office personnel out to handle the office lawn care? Truth is, it's never a good idea. That is something that nearly all offices entrust to professionals to handle so that their staff can continue doing what they do best. In addition, it is also rare for someone who rents office space to be involved with maintenance issues such as that. The burden lies on the shoulders of the building owner in most cases. If you are the owner or property management company, you can make your job much easier by calling us at Monument Facility Services to handle your office lawn care.
The most complex part of office lawn care is knowing which tasks to do at which time. If you find it challenging to keep up with how often mowing and trimming is needed, when to fertilize, and which other tasks are needed for a healthy lawn, you'll be happy to know that we can take care of all that for you. We have the expertise to care for every seasonal need your lawn has while making sure the grass is cut and the areas trimmed for optimal visual effect and lawn health.
Our team has been extensively trained in office lawn care and how to conduct themselves when on your property. We further protect you by being fully insured and bonded. We never hire temporary, illegal, or subcontracted labor to perform office lawn care, so you can be confident the work will be done to our highest standards, and yours!
Save yourself the hassle of maintaining an equipment inventory and staffing for your office lawn care. We are confident you'll be impressed with all our property maintenance services that can be customized to the needs and budget of your Orlando, Florida company. Call today to learn more.
---
At Monument Facility Services, we offer office lawn care services in Virginia, including Chesapeake Bay, Hampton Roads, Richmond, and Tidewater, as well as Maryland, Washington, D.C., and Orlando, Florida.