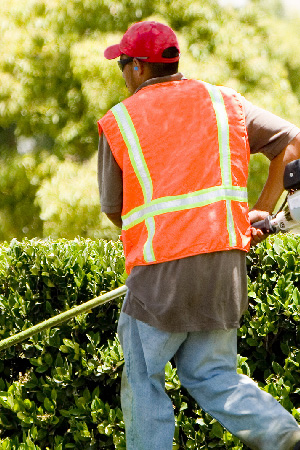 Running a business is similar to running a household in many aspects. You need to find a way to ensure that the lights are kept on, you work very hard to ensure that the people around you a doing well in their current situation, and you spend a lot of time ensuring its success. However, when it comes to your building that contains your business, it is perfectly acceptable to stray from what you know in your own house and hire professionals– especially if you have a sizeable property with which to work in! We have compiled a list of excuses people often use when trying to avoid hiring lawn care services, such as:
"I don't mind mowing the lawn." Even if you are a rare breed of person who actually doesn't mind firing up the lawnmower to your lawn, commercial lawns are often more vast and complicated than a home property area– especially if there are garden areas involved. Even if you don't mind mowing the lawn for your business, there are far more important things you can be doing with your time!
"It's just too much money for something I can do myself." Often times a successful business person became successful because they were careful not to overspend and kept the accounting books in good shape. While paying someone for lawn care services is an expense that you could conceivably take on, professionally maintained lawns look great and allow your business to attract positive attention. Isn't that worth the cost?
"If you want something done right, you have to do it yourself!" We love stubborn customers– they often know exactly what they want! However, when it comes to lawn care services, our experience will ensure that the task is completed on time and done well.
If you would like to know more about our team at Monument Facility Services and our lawn care services, please contact us today!