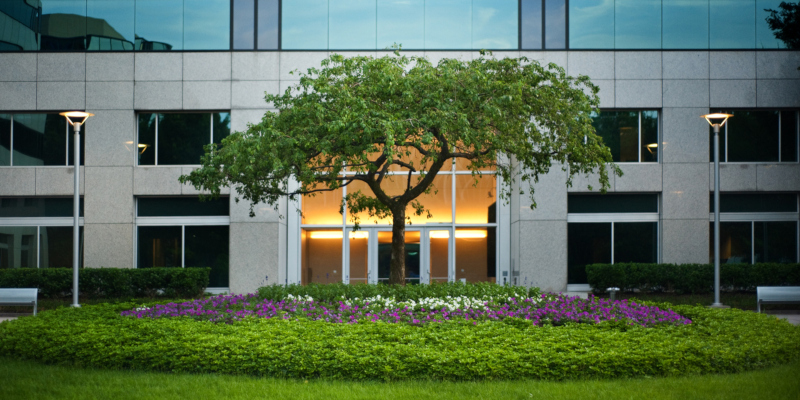 When a potential customer or client arrives at your business, or you are interviewing applicants for a new position, you want to make a good first impression. Nothing is more boring than a building surrounded by concrete. If done right, office landscaping can create a welcoming atmosphere for anyone who spends time at your business.
There are many options to choose from when designing the outdoor space of your building. Freshly cut green grass with numerous flower beds is a great standard choice for any business. You can also go big and make a statement with a water feature, such as a pond or waterfall. No matter your choice, office landscaping can elevate the overall look and feel of your business.
Constructing communal outdoor spaces is another way to enhance your landscaping. Having designated pathways and outdoor seating will allow you and your employees to enjoy what you have created. Getting outside during the long workday can improve energy and productivity. You can also plan a company picnic or have an outdoor meeting to boost morale.
Once you have worked with professionals to make your office landscaping dreams a reality, make sure to show it off! Hire a photographer to capture new images for your website and other marketing materials. A well-maintained building with beautiful scenery communicates professionalism to all who see it.
At Monument Facility Services, we have the talent and experience to design landscaping specific to your business. Whether you need a full revamp or just a few outdoor updates, we are here to help! We pride ourselves on providing the best and most efficient maintenance solutions in the industry. Contact us today!