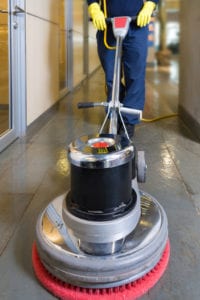 Having an in-house janitorial staff may be advantageous for many businesses, but one task still may be best left to professionals – floor cleaning. Some of today's newer flooring materials demand specialized floor cleaning techniques and products. Here are a few situations in which outsourcing floor cleaning is the smart move.
New flooring. Commercial flooring can be a huge investment, especially at the high-end. In some cases, one wrong move can ruin the floor, or at the very least render the warranty null and void. Your janitorial staff may not know the proper procedure. Even if the information is provided at installation, they may fall back on the methods they've always used, not realizing the potential outcome.
Longevity. The wrong methods can also shorten the life of the flooring. If you are concerned with avoiding the capital outlay of replacing the floors too soon, using a floor cleaning service is the way to go.
New business. As a new business, the cost to set up a janitorial staff could be prohibitive. Floor cleaning usually requires specialized equipment, some of which can be very expensive. You'd also need to have room to store the equipment, someone to maintain and repair it, and the staff to operate it. If your startup budget is tight or there are space limitations, outsourcing floor cleaning and other janitorial tasks makes sense.
At Monument Facility Services, we offer quality floor cleaning and other janitorial services in Virginia, Maryland, and Washington, D.C. Our staff undergoes extensive background checks and is thoroughly trained in cleaning every type of flooring, including marble and other natural stone surfaces. We use certified green cleaning products that will not irritate your staff or adversely affect indoor air quality. Call us with any questions you may have about the advantages of using our floor cleaning services.