Professional janitorial services can save you time and money.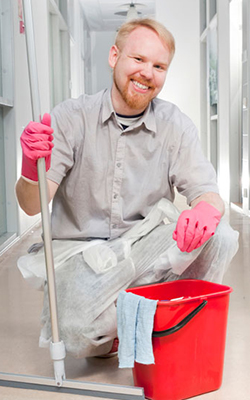 Keeping your office clean is an important aspect of managing or owning a business or commercial facility. However, many people in management and leadership positions don't have the time to worry about whether the office is being cleaned properly. They simply want to show up to work at an inviting and appealing space. Hiring a professional team to handle the janitorial services at your commercial building comes with a number of benefits. Your workforce can focus more on their tasks instead of having to take out trash or wipe down surfaces, which can help boost productivity. Professional janitorial services also save time and money. The environment for employees and clients is healthier and more appealing, which can help your business grow.
On the other hand, a facility that isn't properly maintained isn't very inviting. Potential customers might walk in and walk right back out because they have a negative impression of your business. Instead of taking the risk, allow our team at Monument Facility Services to take on the janitorial services at your Chesapeake Bay, Virginia facility. We provide a variety of cleaning services for commercial clients, including trash removal, mopping and vacuuming floors, dusting, window and glass cleaning, restroom sanitation, breakroom cleaning, and more. Our team members also specialize in floor care for stone, concrete, marble, and tile flooring. With our services, you can have a sparkling clean facility without worrying about whether tasks are being done efficiently and properly. Contact us today for a quote on janitorial services at your commercial space.
---
At Monument Facility Services, we offer janitorial services in Virginia, including Chesapeake Bay, Hampton Roads, Richmond, and Tidewater, as well as Maryland, Washington, D.C., and Orlando, Florida.