Our team is ready, waiting, and more than willing to take the hassle of landscaping & lawn care in Tidewater, VA off your hands.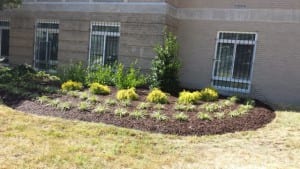 Landscaping & lawn care may seem like an afterthought to many business owners, but your clients and visitors begin to form their opinion of you and your company the moment they pull up to your building. The landscaping & lawn care on your property affect not only the opinion of clients and visitors, but also of employees and neighbors.
As maintenance and cleaning of outdoor areas often is very far from your mind when running a business, choosing a partner to handle your landscaping & lawn care needs can drastically reduce the time and effort you'll need to spend being concerned with landscaping. Your landscaping & lawn care partner needs to listen to your needs and goals for landscaping and plan for operations that address the particular needs and factors of your property, as well as respecting your budget. This includes not only lawn care, but also pruning, mowing, trimming, and whatever other specific needs you and your property might have. Proper timing of these services will help your property to always look its best and project the best possible profile to employees, clients, potential clients, visitors, and neighbors.
Our team at Monument Facility Services is ready, waiting, and more than willing to take the hassle of landscaping & lawn care off your hands. Whether in Tidewater, VA, Virginia, or Maryland, we have the tools, the talent, and the dedication to handle any type of job, no matter the size. Our carefully constructed landscaping & lawn care plans are tailored to specific properties in order to give you precisely what you need within the parameters of your budget. Let us help you today!

---
At Monument Facility Services, we offer landscaping & lawn care services in Virginia, including Chesapeake Bay, Hampton Roads, Richmond, and Tidewater, as well as Maryland, Washington, D.C., and Orlando, Florida.