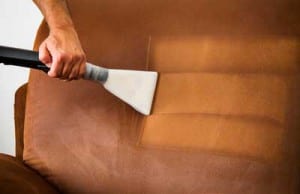 In seeking for ways to keep your business productive, you've probably come up with a lot of ideas for exactly how to accomplish this goal.  During this search, you've learned that you need to help your employees feel valuable, by doing things such as offering them frequent breaks, letting go of perfectionistic tendencies, and providing a sweet reward to work toward.  However, keeping your employees happy is only half the battle.  The other half is keeping your customers satisfied and itching to return.
Keeping your business clean and fresh is the best way to keep your customers comfortable.  Let's face it—no one wants to return to a building that has a noxious smell, unsightly clutter or overflowing trash cans.  While you may already have hired a company to perform janitorial services to take care of these problems, an excellent janitorial company will also offer you quality upholstery cleaning.
When the upholstered furniture in your business is old and worn-down, it can be just as much of a deterrent to potential customers as a dirty floor or overflowing trash can. When you chose the furniture for your business, you chose the furniture because it created the atmosphere you were seeking for.  If your furniture is simply dirty, upholstery cleaning can make it look as good as new once more.
Upholstery cleaning turns your favorite pieces of furniture back into the gems that they started out as.  Additionally, there are other benefits to upholstery cleaning, such as:
It's cheaper than purchasing all-new furniture (why replace it if you love it?)
It increases the lifetime of your favorite furniture
It gets rid of allergens that may be lurking in the furniture, leaving you able to breathe freely
When you want upholstery cleaning that's guaranteed to keep your customers comfortable and desiring to return, turn to us at Monument Facility Services.  We have the knowledge and experience that will make your office furniture sparkle once more.