You'll make your customers and your staff pleased when you call on us to handle the floor cleaning services at your Hampton Roads business.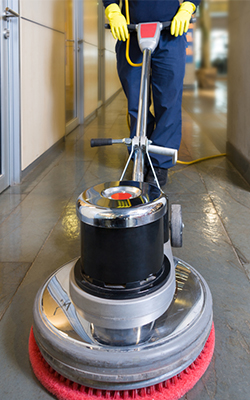 It might surprise you just how much of an impression the floors at your Hampton Roads, Virginia business can make on customers and your staff. It is difficult for them to sustain confidence if they look dingy or stained. If you want to change that or just want to put the care of your floors in a professional's hands, give us a call at Monument Facility Services to learn about our floor cleaning services.
Janitorial work is one of those things that many businesses find makes a lot of sense to outsource. It usually is impractical to have even one person employed full-time to make sure everything stays clean. When you put your floor cleaning services and other cleaning needs with us, you save yourself the hassle of hiring, training, supervising, and paying one or more individuals to handle it. Another mistake some companies make is putting the responsibility for cleaning on the shoulders of other staff. It is far better to keep them productive doing what you hired them to do, and it usually doesn't help employee morale to have them doing something outside their job description. You'll gain a lot of respect from your staff when you turn this task over to us because even though they may not have voiced it, they really don't like cleaning.
Another reason to call us for floor cleaning services is the fact that you'll enjoy professional results. We use the latest technology and devices, as well as certified green cleaning products, to give your floors a thorough cleaning. You can feel completely comfortable with our employees handling your floor cleaning services, as we require they pass extensive background checks and meet the requirements to legally work in the United States. We train them to have attention to detail and professionalism, so your expectations are fully met. Contact us today to learn more about our floor cleaning services or any of our building maintenance and cleaning services.
---
At Monument Facility Services, we offer floor cleaning services in Virginia, including Chesapeake Bay, Hampton Roads, Richmond, and Tidewater, as well as Maryland, Washington, D.C., and Orlando, Florida.