We are proud to help clients in Richmond with all of their needs for janitorial cleaning services.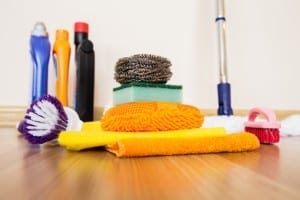 When you're responsible for a business or commercial facility, you have a lot of tasks that fall on your shoulders. One task that shouldn't be on your list of to-dos is keeping the facility clean. Instead of trying to worry about this yourself, you can hire a professional company to provide janitorial cleaning services. If your building is in the Richmond, Virginia area, our team at Monument Facility Services can help.
Janitorial cleaning services are an essential part of keeping your business looking neat and fresh, and welcoming to potential clients, returning clients, and those who work there. Different businesses have widely varying needs with regards to their janitorial cleaning services, so it's important to find a firm that can understand your needs and address them simply, easily, effectively, and with an eye to detail. Even the best maintained buildings still require some attention to cleaning in order to keep your space effective and inviting.
Hiring a professional company to provide janitorial cleaning services comes with a number of benefits. A clean and healthy facility can help boost employee productivity since your employees won't have to take as many sick days or muddle through work in an unpleasant environment. At Monument Facility Services, we use eco-friendly cleaning products, so you don't have to worry about strong chemical odors or potential reactions. Your clean office also looks more professional to potential clients and employees who may visit. When you invest in your office, your employees will appreciate the effort and morale will improve.
Whether you need assistance with cleaning or want to outsource the entirety of your janitorial cleaning needs, it's important to know what your needs currently are and what they will be when working with an outside service. We provide a variety of services, depending on the needs of the client. General cleaning of offices and evening cleaning can include some or all of the following:
Trash removal
Dusting
Restroom sanitation
Vacuuming
Mopping
Break room cleaning
Glass and window cleaning
Metal polishing
Floor care
Exterior or post-construction cleaning
In addition, the firm you work with should be able to work with your schedule to provide the best service and the least intrusive timing of that service.
Although regular janitorial cleaning services can often solve nearly all of your potential issues, having the ability to call for help 24 hours a day is essential to making sure you and your business are ready for whatever comes your way.
At Monument Facility Services, we are proud to help clients in Richmond with all of their needs for janitorial cleaning services as part of our cleaning and maintenance offerings. Our team can create a customized plan for your office, depending on its size and unique needs. We'll make sure your space is clean and ready for business each day. Our goal is to provide cost-effective and customer-focused service to address each client's particular needs. Let us help you keep your business clean today and take the tasks associated with office upkeep off your plate!
---
At Monument Facility Services, we offer janitorial cleaning services in Virginia, including Chesapeake Bay, Hampton Roads, Richmond, and Tidewater, as well as Maryland, Washington, D.C., and Orlando, Florida.
Similar Services We Offer: