A particularly important factor in keeping your Virginia office looking its best is office flooring maintenance.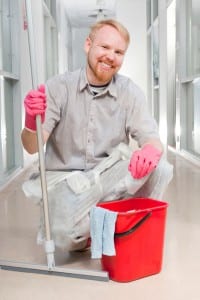 Creating a clean and well-kept work environment is best for your employees and customers. Employees need cleanliness not only to improve their efficiency, but also for their health. Customers are your greatest critics, and a poorly maintained building can drive them away. All the details of maintaining an office contribute to the overall impression people will have of your company. That's why, at Monument Facility Services, we are detailed in every aspect of building maintenance. A particularly important factor in keeping your office looking its best is office flooring maintenance.
There are many types of flooring in different office buildings. Some may have commercial-grade carpets, ceramic tiles, vinyl, wood, etc. Our team is trained and equipped to provide proper office flooring maintenance for each of these materials. Not only do we clean the surface by vacuuming, sweeping, and mopping, but we also offer deep cleaning services. Carpet cleaning or buffing and polishing should be completed routinely to extend the lifespan of your flooring and keep it looking in its peak condition. Although spot treating may be necessary for heavily stained and soiled areas, we recommend that deep cleaning is a regular part of office flooring maintenance throughout your Virginia building.
The cleanliness of your office building will enhance both employee and customer satisfaction. Likewise, it will lead to better health outcomes. If the flooring is properly maintained, the building can retain a new and wholesome look. It will also reduce allergens that are brought in on shoes and tracked throughout the building. We are here to help you maintain your building and are experts at attending to details. We will work hard to make sure we attain your complete satisfaction.
---
At Monument Facility Services, we offer office flooring maintenance services in Virginia, including Chesapeake Bay, Hampton Roads, Richmond, and Tidewater, as well as Maryland, Washington, D.C., and Orlando, Florida.