Contact us to learn more about our office flooring maintenance services.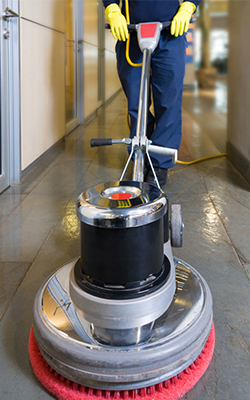 No matter what type of flooring you have in your commercial building, it's important to maintain it to keep it looking nice. Outdated or dirty floors can make your entire commercial space look less inviting, which could lead to issues with customers when they visit the location. Your employees may not be thrilled about working in an office that isn't properly cared for either, so it's critical to take care of the floors. However, most organizations simply don't have the time or resources to take care of office flooring maintenance. At Monument Facility Services, one of the services we provide to our customers in Chesapeake Bay, Virginia is office flooring maintenance.
When we come to your office to provide this service, we'll start by doing a full assessment of your floors. Most commercial buildings contain industrial carpeting, concrete, stone, tile, or marble floors, so we want to make sure to come up with a plan to care for your floors that fits with the material and need. Some buildings require more maintenance than others, such as those with higher volumes of traffic that can cause stains and damage to the floors.
Contact us to learn more about our office flooring maintenance services. We'll take care of the floors, regardless of what type of material they are, to prevent premature wear, stains, and other issues. When we clean your floors, we always use certified green cleaning products to protect your staff members and others who visit the facility. If you're ready to take your floors to the next level, give us a call today
---
Office Flooring Maintenance in VA, MD & DC
Office Flooring Maintenance in Washington, D.C.
Office Flooring Maintenance in Richmond, VA
Office Flooring Maintenance in Tidewater, VA
Office Flooring Maintenance in Virginia
Office Flooring Maintenance in Maryland
Office Flooring Maintenance in Hampton Roads, VA
Office Flooring Maintenance in Orlando, FL