Make a good impression on your clients in Hampton Roads with office landscaping because first impressions matter.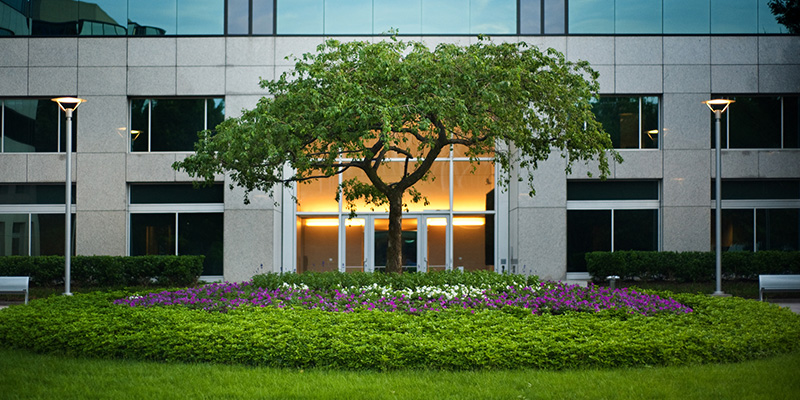 Many people choose to use a company based on the appearance of the business.  If you building and landscaping look rundown, then people will think the company is rundown and not organized.  Looks matter to a lot of people, and if your office landscaping does not make a good first impression, you may lose clients.  At Monument Facility Services, we know how important office landscaping is and how important it is to make a good impression on your clients in Hampton Roads, Virginia.
At Monument Facility Services, we offer a variety of office landscaping services.  We will make sure the lawn looks healthy and green and that the grass is mowed and trimmed during the warm months.  We will make sure your trees and hedges are trimmed and well-manicured.  We also plant flowers if you desire to have beautiful blooms on your property.  We work closely with you, and we will let you decide what you would like on your property.  We also do snow removal during the winter and will make sure the paths and parking lots are free from snow and ice, so your property is safe for both your clients and your employees.
If you are in the Hampton Roads area and are looking for a great and reliable company for office landscaping, contact us today at Monument Facility Services. We will take great care of your property and have it looking pristine, so you can make a great first impression on all of your clients.  Great office landscaping can do wonders for a business and can attract new clients.  New clients will grow your business and will make you more money.  It is a win-win! Let us help you make a great impression and attract new business today.
---
Office Landscaping
Office Landscaping in Washington, D.C.
Office Landscaping in Richmond, VA
Office Landscaping in Tidewater, VA
Office Landscaping in Virginia
Office Landscaping in VA, MD & DC
Office Landscaping in Chesapeake Bay, VA
Office Landscaping in Orlando, FL