Our team at Monument Facility Services will be the only call you need to make for landscape maintenance in Virginia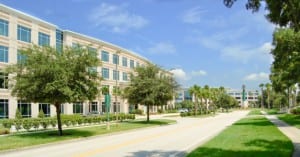 Do you feel like your business needs attention at the front door, but you don't have time to take care of any landscaping problems? Do you wish you had someone who could provide regular landscape maintenance services at a fair price? Our team at Monument Facility Services has years of experience in the commercial landscaping field, and our attention to detail and competitive pricing will make you feel sure you've chosen the right company for the job.
Extensive Analysis – Before we make promises or create a quote, we'll perform extensive analysis of your property, so we are clear on the needs that must be met. Once we know the scope and size of the project, we can develop a landscape maintenance plan that works for your budget and provides the improved appearance you are looking for.
Care For Your Unique Needs – Every customer is unique, and we strive to create a unique plan to fit your needs. We won't just offer basic lawn mowing services if you also need trees and hedges trimmed or flowers planted. You can rely on us to provide comprehensive landscape maintenance to meet your needs.
Improved Aesthetics – Having regular landscape maintenance not only tells your customers you care about how your business looks, but it also improves the aesthetics of the building and can improve the overall property value. That makes our services a good investment in both time and money.
At Monument Facility Services, we work to provide the best and most efficient landscape maintenance solutions in the industry. We offer competitive pricing and train our staff to pay strict attention to detail, so you will know you are getting quality work for the best price. Don't keep putting off landscape maintenance in Virginia because you feel like you can't find the right company. Our team at Monument Facility Services will be the only call you need to make.

---
At Monument Facility Services, we offer landscape maintenance services in Virginia, including Chesapeake Bay, Hampton Roads, Richmond, and Tidewater, as well as Maryland, Washington, D.C., and Orlando, Florida.